Normally this write up is done by good friend and frequent contributor, Richard Lick. But Richard is busy this week. I assume it's because he's off being a generous lover to someone somewhere because well, that's what he's known for. In his absence, I decided that I'd try to fill his shoes with our Waiver Wire piece. For this piece, I'm going to look at guys who are 40% or less owned in Yahoo leagues. Let's get to it, folks.
QB
Mitchell Trubisky, Chicago Bears (30% owned)
Mitchell the Bitchell is on fire! Over his last two games, Trubisky has thrown for 9 TDs and yes, the 6 touchdown game against what the Bucs call a defense is in there, but #10Gawd has been improving week to week. And on top of that, Matt Nagy is apparently a damn genius at calling plays and Trubisky has some strong rushing ability. It's easy to see why the young quarterback is progressing every game. This week, he gets the Patriots who just got absolutely roasted by the Chiefs (yeah, everyone gets roasted by the Chiefs). The Bears have some underrated weapons at the skill positions with Allen Robinson, Taylor Gabriel, Trey Burton and Tarik the Farik Cohen. I like Trubisky this week and he has high QB2 upside the rest of the way.
RB
Marlon Mack, Indianapolis Colts (28% owned)
We had a return of the Mack on Sunday in New York with Marlon going for 89 yards on 12 carries. The Colts desperately need to get a running game going soon because Andrew Luck is having to throw it a ton and his surgically repaired Winter Soldier arm might fall off soon. The thing that was most impressive about Mack's performance on Sunday was how effective he was. According to NFL Next Gen stats, Mack ranked third this week in efficiency, which measures how much of a North-South runner the RB was. A knock against Mack was that he might dance too much when he gets the ball, but if he can be the kind of runner he was against the Jets this week against the Bills this Sunday, then I like an even bigger return for the Mack. His season long outlook is positive as well as he is definitely the most talented RB in that stable of horses. Colts are horses, you're welcome. He's definitely worth a waiver claim this week for RB needy teams.
Ito Smith, Atlanta Falcons (11% owned)
Devonta Morgan Freeman was recently added to IR so the high paid RB is gonna be on the shelf for awhile. Most fantasy observers are going to immediately just say this is Tevin Coleman's backfield but if you've been paying close attention, it's looking more and more like a split committee between Coleman and the rookie from Southern Miss. Smith wasn't great on Sunday, only gaining 22 yards on 11 carries, but he did score a TD and 11 carries isn't anything to scoff at. He's a smaller back coming in at a listed 194 pounds so you can't expect a 20 touch workload every week but if he's getting 8-12 in this offense, then he certainly merits FLEX play. His name is fun to say too. Ito. Ito is an elite-o pickup this week. Yes, I'm 12 years old.
WR
Taylor Gabriel, Chicago Bears (28% owned)
The Bears have two guys on this list? And they're both passing game options? What the hell is going on this season? I can't explain it, but the Bears passing game is exciting. Taylor Peter Gabriel has gone for over 100 yards the last two weeks and gets the Pats this week. He could be a very poor man's Tyreek Hill. Very poor. Like homeless guy poor. No one should ever be compared to Tyreek Hill's speed. Good Lord, he's fast. And the Patriots defense is still having night terrors about him. But Gabriel can scoot a little himself and has proven to be a trusted option for Trubisky. Last week, he caught all 5 passes that were thrown at him and his target share is over 25% the last two weeks. This dude needs to be rostered. Quick cut to the Patriots defense chasing Tyreek Hill from Sunday: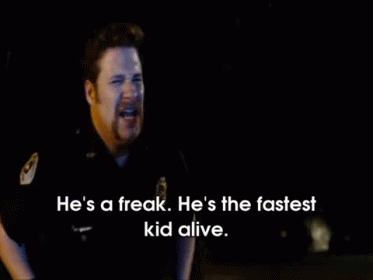 Christian Kirk, Arizona Cardinals (15% owned)
Captain Christian Kirk is starting to emerge as the Cardinals go-to passing game option. And yeah I know Larry Fitzgerald is still there. Trust me. I have his jersey and he once retweeted me on Twitter – a big moment in my life. I know he's there. But Kirk has developed a solid rapport with fellow rookie Josh Rosen and there's a huge reason why: Rosen trusts him. Kirk has caught 81% of his 31 targets on the season and is someone the rookie from UCLA knows he can go to. He also trusts him because apparently they were roommates this summer. Supposedly, that builds chemistry. I don't know how, but hey if you can sleep in the same place as someone and know they won't murder you or do weird shit, then I guess you can trust them enough to throw them a football. The Cardinals aren't exactly dynamic on offense (pull your head out of your ass, Mike McCoy) but Kirk should be an intriguing option moving forward. His matchup this week against the Broncos is also interesting because stud corner Chris Harris, no, not the fantasy guy (shoutout Harris Football) figures to follow Fitz in the slot. Get Kirk before he takes the Enterprise to the stratosphere (I have no idea what I'm talking about with these Star Trek references).
Honorable Mentions: Albert Wilson (big play waiting to happen), Chester Rogers (Cheese Chester), Antonio Callaway (another burner in Cleveland), Frank Gore (will he ever die?), Nick Chubb (Hue Jackson needs to get a rager for him)
Thanks for reading! Follow me on Twitter @hankmardukas23