Welcome back to 5 Thrive, 5 to Dive. In this weekly write-up, we try to predict which players will outperform their weekly FantasyPros rank (Thrives) and those who will underperform (Dives). This isn't a start-sit piece. It's simply telling you who has a chance to do what this week. My Thrives last week (Wilson, Henry, Ekeler, Ridley and Westbrook) didn't exactly hit except for Alex Ekeler. The Dives however (Mahomes, Barkley, K. Johnson, Hill and Landry) were a different story. Well, except for Saquon who decided to vanquish my soul by lighting up the Panthers. You win some, you lose some. Let's get back to it this week!
5 to Thrive
Baker Mayfield, QB Cleveland Browns (FantasyPros Rank: 16)
The number one overall pick gets a nice matchup at home against a Chargers defense that is giving up the 10th most fantasy points to the QB. I know Mayfield hasn't exactly set the world on fire since taking over as QB1 in the city best known as the "Mistake by the Lake," but Baker could be cooking this week. Wait, Bakers don't cook. They bake. Stupid Hank! The Chargers don't exactly perform well either when traveling across country, plus they normally lose games that they have no business losing and the Brownies are playing well. With a good rapport with Jarvis Landry and the quiet emergence of David Njoku, Mayfield could find his way into the top 12 this week. Expect Mayfield to come up golden for the Browns this week.
Tevin Coleman, RB Atlanta Falcons (FantasyPros Rank: 20)
If scoring points is something that you're interested in, then do I have the game for you! The Falcons-Bucs game has the makings of a shootout that would make the Crips and the Bloods proud. And with Devonta Morgan Freeman likely to miss another game, Tevin Coleman is gonna be in line for a big load, er workload. The Bucs give up the 8th most fantasy points to the RB position and Coleman has performed pretty well in Freeman's absence. Plus, this dude is playing for his next contract so he's gonna do everything he can to ball the fuck out in his limited opportunities. I think Coleman finishes as an RB1 this week.
Ronald Jones, RB Tampa Bay Buccaneers (FantasyPros Rank: 42)
Let's get ballsy! Jones hasn't been good. I mean he's been inactive for a few games to start his career and averaged about as many yards per carry in the preseason as I did. I averaged 0. He wasn't much better. Add that with the fact that the guy basically needs a Benny the Jet to Smalls from the Sandlot situation to catch a ball, his situation has been less than ideal. But this week, he gets the Falcons, who if you haven't been able to tell yet suck butts on defense since Deion Jones and Keanu Neal went down. Will Jones get the chance to be the workhorse this week? We'll see. But if he does, I like his chances to way outproduce his ranking. Like Jameis says, "if we skrong, then we skrong," and I think Jones is a skrong play this week. RoJo fosho.
Keenan Allen, WR Los Angeles Chargers (FantasyPros Rank: 12)
This call might have a little to do with the fact that I finally just acquired this mothertrucker after weeks of trying but I digress. The Chargers-Browns game has sneaky shootout potential and Allen is due for a breakout game in a big way. He's currently sitting as the WR27 in half PPR leagues and he's gonna burst soon. Just burst all over the place. This dude is too good to be performing how he has and this week is a perfect spot for a get right game for KA13. His QB and world renowned shot putter, Philip "Father of Now 87 Children" Rivers should be looking to him early and often in this one to get this bad man going. Quick cut to Keenan bursting all over the place: 
Chris Godwin, WR Tampa Bay Buccaneers (FantasyPros Rank: 39)
If you can't tell already, I really want the players in the Falcons-Bucs game. Godwin is the second most talented passing option their and should slowly start to take over as their number 2. And with Jameis "we skrong" Winston returning as the starter, Godwin should be getting ready to eat some W's for your fantasy team. The second year WR out of Penn State is a legit talent and his matchup with the Falcons is as juicy as JLo's ass. Yum. Sign me up for both of these things. Godwin at 39 seems ridiculously low. You should feel comfortable rolling out the Godwin as a high end WR3/flex this week and I absolutely love him in DFS this week.
5 to Dive
Deshaun Watson, QB Houston Texans (FantasyPros Rank: 5)
My dear Watson has been getting the absolute shit kicked out of him since the beginning of the season thanks to his Oline that's as effective as a broken condom. Ol' ass chin himself Bill O'Brien better find a way to keep his franchise QB protected real soon or he's gonna find himself out of a job. I think the Texans will try to get the ground game going this week against the Bills, who despite their two surprising wins this year, don't exactly pose too big of a threat as a rushing defense. Houston needs to get Lamar Miller Time or Alfred You're My Boy Blue going to help protect Watson. 
Ezekiel Elliott, RB Dallas Cowboys (FantasyPros Rank: 4)
The Jags did get surprisingly burnt on the ground last week by Kareem Hunt and Pat Mahomes but they were trying to slow down that fire passing game of the Chiefs. This week, they don't have to worry about the other team's passing game. I honestly think that a retired Michael Irvin and Drew Pearson could form a better passing game than the Cowboys have. Jerry Jones has totally blew this roster. Blew it real bad. Jalen Ramsey and AJ Bouye are going to be really bored this week. They could cover Allen Hurns and Michael Gallup with one leg. The Jags will sell out to stop the only thing Dallas has going for them.
LeSean McCoy, RB Buffalo Bills (FantasyPros Rank: 19)
The same thing that goes for Zeke is gonna go for Shady here. The Bills passing game is non existent. Yeah, Josh Allen can throw it a thousand yards like Uncle Rico, but he's not exactly accurate nor does he have the best weapons in the world. The Texans front 7 is legit and should penetrate the Bills backside, whoops, backfield regularly. I fear that unless McCoy is traded that we'll never get to see the Real Slim Shady stand up again. Buffalo, please trade this man.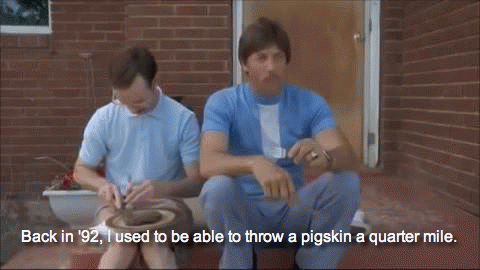 Adam Thielen, WR Minnesota Vikings (FantasyPros Rank: 6)
Everyone is hooked on a Thielen. Everyone is Thielen this. And it's definitely more than a Thielen. This dude is a badass MOFO and has gone over 100 yards in every game this year. So why the hell is Thielen on this list? Well, the Cardinals are an absolute dumpster fire against the run. They are the most favorable defense to go against for fantasy RBs and the Vikings need to get the ground game going at some point. Whether it's Dalvin Cook or Latavius Murray starting this week, Zimmer knows that they're not going anywhere this year unless they can find some balance. I'll always have a Thielens for Adam, but this week I'm not counting on him to finish at his rank.
Allen Robinson, WR Chicago Bears (FantasyPros Rank: 21)
I've had ARob on this list a lot. Which sucks, because I love him as a player but he's on the Bears and Mitchell the Bitchell isn't gonna throw for 6 TDs every week. So big sorry to my brother, but I've got another player of his on my Dives. And the biggest reason isn't because Trubisky is his QB, it's because he's going to be seeing a lot of stud corner Xavien Howard. Howard is a straight lock down corner and will more than likely follow Robinson like stink on shit. I don't see the former Penn Stater finishing at 21 or above this week. Sorry, bro.
Thanks for reading! Follow me on Twitter @hankmardukas23 and be sure to keep checking out funnyfantasyfiles.com.